Hello everyone,
As Magic: The Gathering Online is gaining traction, we have seen more and more people interested in the online economy; either to fuel their collections for Constructed play or simply to wheel and deal a bit for profit. If you have a lot of experience with the paper market, you still might enter the system with a few misperceptions or simply not know all the facts necessary to navigate the digital waters safely. Below, I have compiled a list of facts you should definitively know before investing online and also highlighted the pitfalls that can await you if you are not aware of them. All the recommendations are useful for both the beginner and paper expert. So let's move forward and arm ourselves to save a ton a lot of money!
1. Digital Booster and Singles Prices
A common misconception many beginners have when moving from paper to online is the assumption that paper prices mirror online prices for cards. While you will often find that they are heavily correlated, they can be (and usually are) very different. If you are checking prices for online cards use Magic Online price lists (such as http://www.mtgoacademy.com/store/ ), or you will quickly find yourself stripped of your money. The variance can go both ways – the paper equivalent can be more expensive or cheaper then the digital counterpart. Check out The Tabernacle at Pendrell Vale and Force of Will as prominent examples.
The reason for this discrepancy is obviously supply and demand (as always). Online cards have a completely different print history and distribution and might even be a different rarity then the paper equivalent. You can say however that in general the digital singles are cheaper then their paper counterpart. This is particularly true for new sets and a result of the rapid, high frequency drafting that happens online and injects a lot of singles into the system. Combine this with the (still) lower demand for online cards, and you know why you can get Standard rares for 0.07 Event Tickets (approximately $0.05). This makes Constructed play cheaper and attracts a lot of players that enjoy the convenience of having a lot of events that fire around the clock.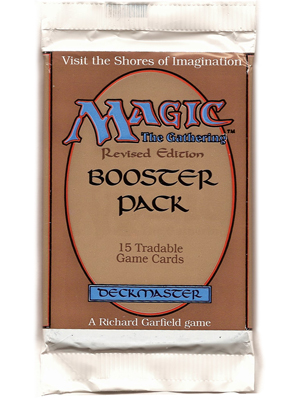 Unfortunately the lower priced singles come with higher priced booster packs. As Wizards of the Coast has no need for a middle man on MTGO, and therefore no incentive to reduce the MSRP, you will have to pay the full price for booster packs regardless of the amount you buy. Let me reiterate: there are no booster box discounts or dealer prices.? Because of the two facts mentioned above, generally it is a really bad idea to open booster packs without using them in an tournament. You are destroying value when you open a booster. You should never crack the booster you get with the creation of a new account but rather sell it in the market – you will get much more out of it.
So how much does a booster cost? If you can get it in the Wizards Online store you will pay $4 for each, but of course there is a secondary market for booster packs where you can buy from players and bots for Event Tickets. Often you will find that they go for a bit less then 4 tickets for the most current and heavily drafted set, because this set is usually also used as payout for the Constructed tournaments and players sell the for more tickets. My recommendation would be to look around on Classified to find out the current going rate and use that to decide if you should be them at retail or from the secondary market.
It is also important to note that the newly introduced "multiple entry options" that allow you to pay with tickets instead of having the boosters will have a significant impact on booster prices. The only reason why you should pay a high amount of tickets for a booster is if you already have two of the needed boosters for the draft queue and are only missing one to complete the draft set. Otherwise simply choose "Event Tickets" as entry options and you will pay 12 tickets + eventual entry fee of 2 tickets for the draft.
2. Foil Prices Are NOT Calculated "Regular x 2″
Online foils are strange beasts; while many completely ignore them and don't understand the appeal at all, others are hunting for them to make sure every single card in their deck is shining. For a lack of better understanding, players often just multiply the regular price for the card times two and try to sell. In many cases this will lead to frustration- either the card does not sell at all or it's gone in a second and we are left with the feeling we missed out on some value. I could write another article about the topic alone, but for now here a few tips how to handle foil prices. Please be aware those are very general guidelines and certain card values can deviate strongly.
If the card is Standard legal, rare and a staple add 40% to 60% to its value. Stay on the lower end for very expensive cards and on the higher for the cheaper cards.
If the card is a Classic staple, rare add 100% to 200% to its value. Again stay on the lower end for very expensive cards and on the higher for cheaper cards.
If the card is common and a Classic staple, you will have to do research. There are certain cards, such as Merchant Scroll, that fetch an easy 4000% (!) premium over the regular one. High premiums for foils are usually paid when the card only exists white bordered in non-foil form. There are players that hate to use white bordered cards, and this makes the foil version of these white border only cards very valuable.
For all other cards, do a bit of research before you buy or sell and be aware that dealer prices are worthless if the particular card is not in stock- often the value of out of stock cards is much higher than indicated by the dealer price!
3. Bots Are NOT Always More Expensive Than Humans
Yes, it is true that you can find deals when trading with players, but trust me on this one – in many cases you will find bots that sell the cards you need cheaper then the players advertising in Classifieds! At any given point, I have no problem finding over a dozen buy or sell offers on the Classified list that are either charging way to much or offering way to little for cards (predominantly the latter). Combine this with the fact that trading with a bot is quicker and that the selection is usually better (if you use one of the big dealers), and you have no reason not to try to trade with your newest machine buddy. Again, make informed price decisions. Of course it can be more fun to trade with humans and you should feel free to handle trading as you feel most comfortable with- just don't avoid bot trades only because some people want to make you believe they are "evil!"
I would stay away from bots that advertise with wrong prices or with cards they don't carry. Small inventories are usually also an indicator that the bot is managed by a single person with little liquidity and can mean trouble. Buying from bots is like any other transaction – you want someone you can trust and that has a good support in case of problems. Another important issue is that the bot should apply and keep credit for your account as many cards cost an uneven amount of tickets, and if you pay 0.45 tickets for a card you want, the 0.55 credit applied when you shop again with this particular bot.
To add a shameless plug, try our bot "mtgocardtraderbot" and compare the prices with some of the ones advertised on Classifieds – you might be surprised! We are also buying cards from many sets (if you want to get rid of overstock).
4. Online Prices Are Very Volatile
The fact that the online market has a lower liquidity and cards move faster make for some drastic price changes but it's hardly true that you cannot predict what will happen. If you follow the tournament scenes closely (especially the paper ones), you will quickly see that cards that show up in winning decks also gain value on MTGO and often quite significantly.
If you also start monitoring the various tournament seasons such as Standard, Extended, etc., you will be able to make informed buying decisions without seeing your card values crumble to dust. Buy when seasons are nearly over and sell a few weeks before they start and you will have no problems. A common behavior after a new set gets released online is that constructed players try to fill in the gaps as quickly as possible which results in very high prices as the supply is very low. It is not uncommon to sell tournament staple uncommons for up to 3 to 4 tickets each! Be aware of those demand patterns and act accordingly. You can find all release schedules and an event calender here.
Prices drop very quickly when drafting starts so you should not sit on your cards for too long. In fact, try to sell quickly and rebuy after a week or two if you don't need the cards constantly.
5. Event Tickets
While Event Tickets are officially used to pay for tournament entry, it is the de facto currency of the game and used to buy singles, boosters, and all other products on the secondary market. Their value is fluctuating somewhat and usually they sell for $0.92 to $0.98 per ticket but can go higher if you are selling outside the USA (because of tax reasons). Wizards of the Coast sells them in the online store for $1.00, you can buy from other players advertising sales on Classifieds, and finally there are a few dealers that sell and buy tickets all the time.
Unfortunately, selling and buying tickets is probably the most scammer infested area on MTGO. I highly recommend NOT buying or selling tickets to users you don't know very well or trust because they do not have a reputation to lose (such as known big dealers). I cannot count the number of posts I see on the Classifieds or in the forums where someone is complaining about getting scammed while he tried to buy or sell tickets. Do NOT use outside system transactions of any kind with people you don't know! This includes trades via PayPal, Poker cash, and all other forms that are not enforced by the MTGO trading interface.
I will leave you with the reminder to not underestimate the complexity of the online economy and to do research before spending too much cash or end up getting scammed. MTGO is a great place if you avoid the many pitfalls that can diminish your playing experience!
Take care all,
Plejades